2006: Focus on Latin America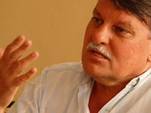 Rev. Israel Batista - General Secretary of CLAI
"…AND STILL WE SEEK PEACE"
"For I know the thoughts that I think towards you, says the Lord, thoughts of peace and not of evil, to give you a future and hope," (Jer. 29:11 NKJV).
I.  Building households of peace.  Peace is not just an option, it is our mission.
Our societies are caught in a spiral of violence which has not left our homes and our personal lives untouched.  Sometimes the ideal of peace seems like a distant dream; not only are the figures we read or hear about in relation to violence chilling in the extreme, but the general insecurity of daily life has become more than we can bear.  Worst of all is the sense of helplessness at the inability of our governments and our social institutions to tackle this evil; it is almost as if we had become accustomed to living with violence and responding in kind.
Nor are our churches untouched by this syndrom of violence:  When we turn the faith into a marketable commodity;  when, instead of preaching the gospel, we engage in proselytism, counting the numbers with no respect for ethical principles; when we inject our worship and theological thinking with 'belligerent' and competitive language;  when we allow our pastoral calling be treated like a successful business venture; when, in the name of doctrinal purity, we exclude those who do not think like we do.  All this points to the need for confession and requires the churches to face the challenge of the violence that affects them. 
One of the most important contributions the Christian churches have to make in societies afflicted by violence is to proclaim peace - personal peace in the life of the individual believer, and communal peace in our congregations.  We have a ministry to proclaim peace, to be peace-makers.  Being messengers of peace, in our personal lives and in the life of our churches, is not an option but an essential part of our ministry of peace and reconciliation.               
It is not a question of what CLAI proposes to do, but of how the churches involve themselves in this ministry of peace.  The year 2006 belongs to the churches and they have the last word.  With that in mind we call upon the churches and individual Christians:
to make a culture of peace one of the main items on the churches' agenda;

to make our local congregations "households of peace", not only preaching peace but practising a ministry of peace and reconciliation in our local areas and societies;

to work together as churches to contribute to projects for peace in our society;

to testify that violence is not inevitable, showing that it is possible to live in peace.

 

Christ is our peace and

 

He calls us to be peace-makers;

to contribute to peace education, especially among children;

to raise awareness on the subject of domestic violence and violence within families and between individuals.
II.    The Year 2006 in the context of the DOV
In parallel with the United Nations' Decade for a Culture of Peace and Nonviolence for the Children of the World, the World Council of Churches has declared a "Decade to Overcome Violence (2001-2010): Churches Seeking Reconciliation and Peace" (DOV). Churches in all parts of the world have been participating in peace initiatives. Each year a different region is emphasised through a regional focus. In the year 2006 the focus is on Latin America, one of the most violent regions of the world. Without denying our differences, the focus on our region is a challenge to unite us on goals of peace. 
III.  Objectives
It is hoped that:
the churches will take up the challenge of the DOV in Latin America in 2006 and congregations will become involved in the ministry of peace and reconciliation;

local congregations will focus on the campaign "households of peace";

CLAI and other ecumenical bodies and church organizations in

Latin America

will join forces in a campaign to promote a culture of peace that will have a public impact in our countries, and encourage networks;

CLAI and church organizations will work together to produce a Programme of Peace Education for primary schools in the region;

CLAI will facilitate training, information and interaction among the churches with regard to peace;

first steps will be taken towards setting up a Centre for peace relations

that CLAI and other ecumenical bodies and church organizations in our continent will combine their efforts to provide training and information to create awareness and find ways of overcoming domestic, family and gender-based violence.