International Day of Prayer for Peace
A collection of Prayers for Peace
Vigil for Peace - Order of Service
You may use and adapt the resources below which were put together in view of a prayer service held at the Ecumenical Centre in Geneva:
2009
Order of Service (pdf, 37 KB)
2008
Order of Service (pdf, 34 Kb)
2007
Order of Service (pdf, 32 Kb)
On Earth Peace
Several orders of service for Day of Prayer observances and public vigils as well as a bibliography of related books are available at prayforpeaceday.org. They have been collected by On Earth Peace, an agency rooted in the Church of the Brethren in the United States.

DVD: Peace One Day
The DVD: Peace One Day film project began as the vision of British director Jeremy Gilley. Launched in 1999, with the support of countless individuals and organisations, the film documented and inspired the establishment of the United Nations International Day of Peace as a day of global ceasefire and non-violence, now fixed in the calendar as 21 September annually.
The DOV Coordination Office recommends this DVD to be part of the day's program. read more...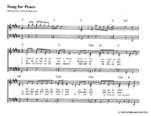 Song for Peace
"Song for Peace" highlights the power of peace: A hopeful Song of Healing Chosen to Highlight US Focus for DOV in 2004.
A collection of Bible verses for reflection on peace
 Suggested Biblical texts for reflection:
Psalm 51: 10-17
Psalm 85
Ephesians 2: 11-22
Romans 14: 19-15: 7
Matthew 5: 3-12
John 14: 23-31
John 20: 19-23
Isaiah 60: 17-22
Gal 5: 22-25
Rom 12: 18-21
James 3:18