Blog from the Living Letters visit to Pakistan
The Living Letters blogs are written to share about visits to specific countries or regions around the world, organized by the World Council of Churches (WCC) Decade to Overcome Violence initiative along with assistance from local coordinators, churches and other organizations. The Living Letters blogs are personal narratives from members of the "Living Letters" team and do not necessarily represent the opinion or policies of the World Council of Churches.
Additional information on the Living Letters visit to Pakistan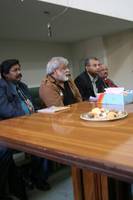 Shanta Premawardhana (WCC), Dick Kleinhesselink (program officer of PCN Mission Department, not participating in the Living Letters delegation) and I arrived on the same flight to Lahore. When Dicks suitcase did not appear and he had to report that to the people in charge, Shanta and I went outside the terminal to meet the driver waiting for us.

When I had to go back to Dick I was faced with 6 people in uniform, guarding the entrance of the arrival hall. I was not supposed to enter again. Just arrived in Pakistan, thinking of the safety situation I assumed that it would be hard to pass these men in uniform.

Two of them standing outside the terminal indeed told me that I could by no means enter again. When I started to explain my problem, they called upon a colleague who looked very strict and asked me what seemed to be the problem.

After a while he said: so you want to help your friend and ask for my permission to do that? I nodded and then the man in uniform said: ' Of course you can go in, I am here to help people'.

When I was about to leave the arrival hall again to inform Shanta, I thanked the officer. He then asked me what I did for a living. When I told him that I was a lecturer a big smile came to his face. We were colleagues then! He graduated from the faculty of literature, had taught English in secondary school. And he now needed my help. He wrote a novel about people in the Northwest Provinces of Pakistan - a very troublesome and dangerous area at the border with Afghanistan - telling about the conflict, the religious and cultural aspects of it and he was looking for a publisher to publish his novel. Whether I had contacts who could help to publish the book. He quoted form his book|: 'Violence has made so many certainties become uncertain; this sword above peoples head paralyses normal life…'. I told him I had no connections to publishing house. He spoke about his love for Shakespeare, values in life, how religion could support cultural values but also obstruct them… And then he had to go. I also went…

Only afterwards it came to my mind what had happened in terms of communication. Feeling insecure because of his uniform - preoccupied as I was with the military and the safety situation in Pakistan - the last thing I expected was a conversation about what exactly was the goal of our visit: sharing with the people of Pakistan about the conflicts they are facing and about the role of religion, culture, economy and power in all this. And right at the doorstep I met a man in uniform speaking to me as author who reflects on these issues, showing his concerns. But he was not in the schedule…

Maybe I had to meet him to be aware that our mission is to listen to the people, including or foremost to the stories of the people who experience the challenges of Pakistan in every day life.

And why was this teacher who spends his free time on writing a novel working as a guard anyway? I was happy we had a week for this visit in order to ask more questions to more people. And that we were together as a delegation from different countries in Europe, Asia and America, including the US and Pakistan itself. We would need the different perspectives to understand what is happening in Pakistan as well as to understand the different perspectives people in Pakistan have on us, the rest of the world.

Part of the delegation represents the 'West', the so-called Christian world. As a delegation we are the allies of a minority in Pakistan without really understanding what it is to be in a minority position and even sensitive for too much of a minority awareness and behaviour… The Pakistan member of the delegation, teaching in the USA would be of much help to explain and to reflect on these complexities.

Aart
Posted By: Aart on Nov 28, 2008 01:01PM
To get more information about Pakistan, please visit
Posted By: sikander on Feb 21, 2009 10:51PM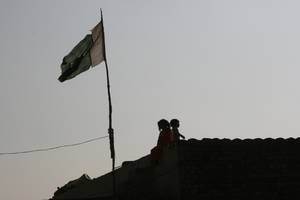 Peshawar is a city of 3 million in north western Pakistan, not far from the border to Afghanistan. Even though the city's surroundings are flocked with refugees driven (by both militants and US/NATO forces fighting the former) from nearby tribal areas it is not really a safe haven neither for Pakistanis nor for foreigners. Incidents with lethal outcomes have taken place several times during the last year.

The other day, we had a lunch conversation with a British national living in Peshawar. As principal to a college in the city he is one of few remaining foreigners. Despite working under difficult circumstances - he has received anonymous death threats - he seemed to have a truly peaceful mind set. I was deeply impressed how someone can retain such a mind set with that backdrop. Perhaps that is the only feasible, otherwise you simply cannot make it there. True is, he actually saw little gain in why somebody would kill him. Not unlikely partially because few people actually see harm in education, educating boys that is. Education for girls is sadly still debated in some parts of the country.

More importantly, there is still quite a sizeable Christian minority in the city, most of them under the leadership of Bishop Mano and Church of Pakistan. I consider it tremendously important that the rest of the world does not forget them who live on the fringe of Christianity. Especially we who come from countries where Christianity is the majority religion, some of us might get a little to comfortable sometimes where we live.

Henrik
Posted By: Henrik on Nov 28, 2008 12:45PM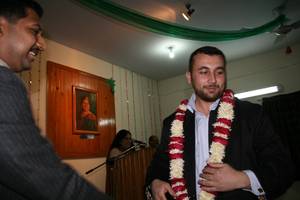 I had not a very clear image of Pakistan before coming here. When I got to Lahore, my impression was just the opposite. It's a beautiful city, which eventually can be a very successful tourist destination not only for the Arabic and Islamic part of the world, but also for other continents.

The first day of our programme we went to an orientation in the Diocese of Rawalpindi in Lahore, whose leader is Bishop Samuel Azariah. I know him from the Executive Committee meeting of the World Council of Churches which took place in Armenia last year.

We were met with a warm welcome service. The tradition here is that they meet the guest with a flower, which, as Bishop Azariah said, smells very sweet. We got flowers from the members and pastors of the Church of Pakistan. It really made a deep impression on me, because in their eyes I saw a hope, tremendous hope, which can never be lost.

Not all the Pakistanis are Muslims as some might assume. The Pakistani Christians firmly keep to their faith in Jesus Christ. They did not expect any assistance, they know that we cannot make global changes influencing their situation, but for them it does not matter, the most important thing for them is that we are here, we are standing on their side. 

I don't want to compare Pakistani Christians with other Christians in the world, but what they feel here in their body, is incredible and they cannot survive the discrimination and violence without strong faith. They are part of the Body of Christ, so other parts should help this part survive, because the body is ill now and needs help from every Christian.

Yesterday's schedule was packed. We met with legal activists, pastors and women from various denominations. We heard a brief, but deep introduction to the situation in Pakistan. Then we had a very interesting conversation, during which the pastors told us what is happening on the ground in Pakistan. They told us a lot of stories about killings, kidnappings and oppression of Christians.

After that we attended a service and the opening of the Synod of Churches of Pakistan 2008. Here I had a talk with Bishop Mano, who is the Bishop of Peshawar, the most dangerous region of Pakistan, bordering Afghanistan. I was amazed when I heard that he was once kidnapped. I saw influence from the Holy Spirit in his face. He said that nothing can frighten him from carrying the cross. I pray to God that he cares for him and keeps him away from all the evil. Let God save him under His Holy Right Hand.

Michael
Posted By: Michael on Nov 26, 2008 11:08AM
Since yesterday our group is finally complete and we are all gathered at the hotel. Some of us already knew both the country and some of the other team members; others had the opportunity to get to know new friends and are looking forward to discovering a new country.

Even though the first actual day of our visit is today, we already had some sort of a sneak preview of what to expect yesterday when Bishop Samuel Azariah of the Raiwind Diocese invited us to share a meal with him at his house.

The discussion around the table touched on issues like forced marriages or how the caste system in South Asia also affects Christians. The discussion was lively and animated, which is indeed a positive sign as we all learn from each other.

Henrik
Posted By: Henrik on Nov 25, 2008 11:49AM
This blog is a space where the participants of this solidarity visit will share their personal encounters and experiences with churches and other institutions of Pakistan's society during the trip. The delegation consists of six persons, four representatives of WCC member churches and two World Council of Churches (WCC) staff persons from Geneva.
The members of the ecumenical delegation are:

Monisha Smith, 26 years old, is currently working in the public sector in the United States. Previously she has served as a social justice missionary in West Bromwich, England. Monisha's background is the Presbyterian Church (USA).

Aart Verburg, 54 years old, is an ordained pastor of the Protestant Church in the Netherlands. He has earlier served in a small Dutch congregation as well as a university chaplain in Indonesia. He is now the principal of a missionary preparation and cross culture communication school.

Michael Barseghyan, 24 years old, graduated from the Gevorgyan Theological University. He currently works in the Inter-Church Relations Department of the Armenian Apostolic Church (See of Etchmiadzin) as a secretary. Michael is participating in this trip to learn more about challenges that Christians worldwide have to face today.
Charles Amjad-Ali is an ordained minister from Church of Pakistan and a scholar specialed in ecumenical theology and Islamic law. He is currently Professor at Luther Seminary in United States.

Also on the trip are Shanta Premawardhana, Director of the WCC's programme on Inter-religious dialogue and cooperation, and Henrik Hansson, intern with WCC Communications. Shanta is heading the delegation and Henrik will try to provide regular updates on the messages the group wants to tell the world. 

Keep you posted!

Henrik Hansson
Posted By: Henrik on Nov 20, 2008 08:07AM