25.02.11 17:01 Age: 1 yrs
WCC Central Committee focuses on peace and justice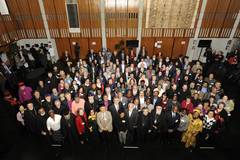 By Theodore Gill*
Justice and peace provided a framework for planning and assessment of programmes as the Central Committee of the World Council of Churches (WCC) met in Geneva from 16 to 22 February 2011.
The Central Committee looked forward in particular to upcoming global gatherings that will focus on "just peace": the International Ecumenical Peace Convocation at Kingston, Jamaica in May of this year, and the next WCC Assembly at Busan, South Korea in October 2013.
Justice, peace and Christian unity were central topics in opening addresses by the general secretary of the WCC and the moderator of the Central Committee.
The WCC Central Committee is a governing body representing 349 member churches that convenes approximately once every eighteen months.


Highlights and directions on the journey
An Assembly "theme" in the form of a prayer was adopted for Busan: "God of life, lead us to justice and peace."
Among the highlights in the life of the Central Committee were common prayer and Bible study, calls for renewed and creative efforts in the quest for Christian unity, the relationship of women and men within church structures, statements on public issues, as well as the practical details of approving the WCC budget.


A network of relationships
In a chapel meditation on the opening day, Rev. Dr Ofelia Ortega, the WCC president for Latin American and the Caribbean, told her congregation: "Our whole existence is a network of relationships in which we need reciprocity, connectivity and interdependence in order for peace to be achieved."
Another WCC president, Archbishop Anastasios of Tirana and Durres, the Orthodox primate of Albania, reflected that "Peace is not something a human being can acquire through its own powers alone. It remains a divine gift." He added, "It is a gift that, in order to be given, requires the desire of each person to receive it."
Later, in a discussion on "the community of women and men", it was recognized that women have always been outnumbered in WCC governing body relationships. Prof. Dr Magali do Nascimento Cunha of the Brazilian Methodist Church argued, "Full participation of women through numbers has to be achieved and also has to mean women being able to speak, being able to do, to lead, women being respected as partners being seen, being heard, their gifts recognized and valued."
The Central Committee recommended that 50 percent of assembly representatives be women, but this has been an unachieved goal since 1981. Minimum percentages were also suggested in regard to young people, laity and Orthodox delegates.
Rev. Jennifer Leath of ECHOS, the WCC youth commission, observed that "there is a delicate dance that is going on" because it is seen as important that the WCC speak with "authority", yet the leaders of the churches whose voices are best recognized tend to be older and male. The WCC, she continued, is attempting to find a means of "maintaining a prophetic and youthful voice."
Father Gosbert Byamungu, an observer from the Roman Catholic Church and co-moderator of the Joint Working Group with the WCC, stressed that there has been ecumenical progress over the decades. Fifty years after the Second Vatican Council, he said, "distrust and animosity" among different traditions of Christianity "have been replaced by trust and friendship." Today, progress is being made in relations among ecumenical bodies, world evangelical organizations and Pentecostal associations.


Consultation with Christian leaders from Iraq
Key leaders from several Iraqi churches, including a patriarch and four archbishops, held a consultation in Geneva at the time of Central Committee. Speaking to Central Committee participants at a public hearing, Archbishop Mar Georgis Sliwa of the Holy Apostolic Assyrian Church of the East reported that the most urgent needs in Iraq were "investigating the real reasons" behind violence and working "to empower the role of the state" in ensuring security for Iraqis regardless of religion or ethnicity.


Statements on public issues
The Central Committee adopted several statements, memoranda and resolutions on Iraq and the Middle East, Libya, Colombia and Australia, as well as taking positions on the topics of migration and the human right to water and sanitation. It sharply criticized a veto by the USA in the United Nations Security Council blocking UN condemnation of settlement-building in Palestine. The group also celebrated the 25th anniversary of WCC ministries to help churches in Africa achieve competence in dealing with the HIV-AIDS pandemic; this work was enthusiastically reaffirmed.


Approval of the budget and an application for membership
Amid fluctuating currency markets, the Central Committee acted to adopt a draft budget for 2011 with total income of 30.5 million Swiss francs, total expenditure of 32.9 million francs and a net reduction in funds and reserves of 2.4 million francs.
The Evangelical Lutheran Church in Jordan and the Holy Land (ELCJHL) took a step toward membership as the Central Committee accepted its application to join the WCC fellowship. While other WCC member churches are consulted to assure consensus regarding the application, the ELCJHL will participate in the life of the WCC both regionally and globally. A determination regarding full membership will be made at the Central Committee meeting in September 2012.
(*) Rev. Theodore A. Gill serves as senior editor of WCC Publications.
More information on the Central Committee meeting
---