16.02.11 18:51 Age: 1 yrs
We are called to be one in faith and action, reports WCC general secretary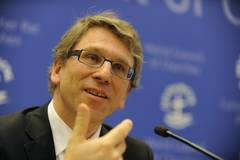 "There is no theological reflection that does not take place in God's vulnerable world and in the midst of the joy and suffering of ordinary people," said the Rev. Dr Olav Fykse Tveit in his report to the first meeting of the World Council of Churches (WCC) Central Committee that he has addressed as general secretary.


He was elected by the Central Committee at its previous gathering in the summer of 2009 and began his term of service at the start of 2010.


In the past year, he continued, experience has reinforced his conviction that the churches are "called to be one" in their faith but also in their action on behalf of a just peace with dignity for all. "We are called to address those in power," he said, and to challenge world leaders "to listen to the cry for justice and for a better common future."


The general secretary depicted the WCC as both "a global, ecumenical, mutually accountable, committed fellowship of churches" and "an organization established and nurtured to bring the member churches to conciliar relationships and to act together."
The council combines spiritual communion and practical structures, "aiming at results through improved relationships" and also "by staying together so that we can act together," he said.


Areas of special concern for the WCC, its member churches and other partners, according to Tveit, include interfaith relations and dialogue, the churches and people of the Middle East and particularly Jerusalem and the rest of the Holy Land.


He also included service and development ministries carried out in cooperation with the new ACT Alliance, the nurturing of the community of women and men in churches and societies, changes in church and world that are creating a "new ecumenical landscape" and the issues of justice and peace.


The issues of justice and peace will provide a focus for the International Ecumenical Peace Convocation (IEPC) at Kingston, Jamaica in May 2011.


Tveit concluded his formal report with thanks for the support of the Central Committee of the WCC. He said, "I have had the most busy and most blessed year of my life."


"I am particularly inspired by the encounters and cooperation with youth: You are the future and the building blocks of the ecumenical movement. Your participation is always a great inspiration, and I highly value your contributions to our present and future. May God continue to give us all strength and joy in the work and this fellowship!" he said.


In answer to questions and comments from the Central Committee, Tveit acknowledged that there is a widespread yearning for greater strides toward unity among the churches themselves, not least in forming one eucharistic fellowship enabling Christians of all traditions to share in the sacrament of holy communion. He also stressed the importance of building "strategic consensus" among churches "so that we can find our common voice."
Full text of the general secretary's report
Listen to a recording of the report
More information on the Central Committee meeting
---