20.11.08 14:33 Age: 3 yrs
Pakistan: Ecumenical delegation to support churches amidst conflict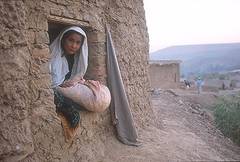 Religious freedom and interreligious dialogue will be on the agenda of an international ecumenical delegation visiting Pakistan from 24 November to 1 December. The group will discuss how churches can help ease political and religions tensions with representatives from churches, the Muslim community and government officials.
The international ecumenical delegation sponsored by the World Council of Churches (WCC) will learn about the work of the churches in interreligious relations, how Christians deal with situations of tension and conflict and the contributions made by civil society organizations. Returning back home they will share their experience with their churches.
After almost a decade of military dictatorship, the Islamic Republic of Pakistan returned to democratically elected civilian rule in February this year. Fighting in the tribal areas along the Pakistan-Afghan border has recently intensified with cross border attacks from US forces based in Afghanistan creating tensions between the Pakistani and US governments. Militant groups have sometimes targeted local Christians by kidnappings and killings, presuming them to be US proxies or sympathizers. They have also targeted foreigners in other parts of the country.
In February 2008 the WCC central committee hailed interfaith initiatives of the Church of Pakistan that "mobilize non-violent responses to acts of terrorism by building a culture of peace and interfaith harmony in the country". It also noted that Pakistani churches and faith communities have condemned "violence, terrorism and all other forms of dehumanizing measures".
The visit of the international ecumenical delegation, hosted by the Church of Pakistan and the National Council of Churches of Pakistan, is part of the WCC "Living Letters" initiative. Several Living Letters visits take place each year throughout the world in the context of the WCC's Decade to Overcome Violence in order to prepare for the International Ecumenical Peace Convocation in 2011.
Members of the Ecumenical delegation:
Prof. Charles Amjad-Ali, Church of Pakistan, Pakistan/United States
Deacon Michael Barseghyan, Armenian Apostolic Church (See of Etchmiadzin)
Ms. Monisha Smith, Presbyterian Church (USA)
Rev. Dr. Aart Verburg, Protestant Church in Netherlands
WCC staff:
Rev. Dr. Shanta Premawardhana, Director of WCC Inter-religious dialogue and cooperation
Mr. Henrik Hansson, Intern, WCC Communications
Living Letters to Pakistan blog
WCC member churches in Pakistan
---