Blog from the Living Letters visit to Germany
The Living Letters blogs are written to share about visits to specific countries or regions around the world, organized by the World Council of Churches (WCC) Decade to Overcome Violence initiative along with assistance from local coordinators, churches and other organizations. The Living Letters blogs are personal narratives from members of the "Living Letters" team and do not necessarily represent the opinion or policies of the World Council of Churches.
Frankfurt, 5 July 2008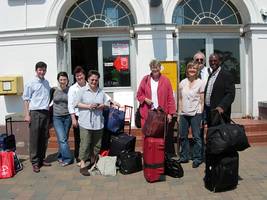 05.6.08 Here I sit in Frankfurt airport my thoughts advanced to the journey home. Being always mobile and having bags and stuff to carry around is something which all of us in the Living Letters delegation have gotten used to by now. Being together in the hefting and careening our luggages in and out of trains and cars and vans has been as much a part of our trip together as much as discussing and listening and sharing. As a letter at the end of my journey, it's a little difficult remembering life "outside the envelope." In many respects, this trip has been an ideal situation. We were simply asked to travel, listen, learn and share of ourselves and our own contexts. This is the nature of peacemaking: respectful and equitable human exchanges. Without this, all other peacemaking work cannot stand. --Thomas -- P.S.. Many many thanks to the WCC and all those who made this trip possible.
Posted By: Thomas on Jul 08, 2008 03:06AM