Blog from the Living Letters visit to Germany
The Living Letters blogs are written to share about visits to specific countries or regions around the world, organized by the World Council of Churches (WCC) Decade to Overcome Violence initiative along with assistance from local coordinators, churches and other organizations. The Living Letters blogs are personal narratives from members of the "Living Letters" team and do not necessarily represent the opinion or policies of the World Council of Churches.
Cologne, 28 June 2008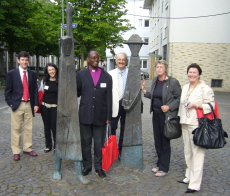 Hello all!  
After another long but wonderful day, Katerina and I are happy to be alive and resting in our lovely accommodations in Cologne, Germany. We have made the trip from Frankfurt today by train and it's hard to imagine that we have only been together one full day. The people we met in Frankfurt were so full of excitement and warm love for us that we can only carry that on into our own group dynamic which is being created.  They were also very eager to share the immense amount of work which they have so thoughtfully put into their own contexts that I personally could only be in a spirit of awe and praise. The program today consisted of listening and sharing experiences of overcoming violence in very concrete ways such as, overcoming forced prostitution, confronting domestic violence by giving counceling to victims and perpetrators, developing thelogies of peace, examining religion's role in conflicts through inter-religious dialog, and lending peace to the market by building just democracies.   (We all took part in building more of a peaceful and just market by drinking fair-trade coffee provided by our gracious hosts!)  
As we sit here both yawning, Katerina and I agree that the topics we covered today could provide discussion to all of us for years on end. But we are realizing that while our role as living letters includes affirming and celebrating the real work which has been done, it also includes bringing people together who would not normally meet and interact.  There have been many conversations taking place on the fringes of our meetings together between new friends who share the same goal: creating a peaceful world.  Our visit worked as a motive for people to gather and strengthen each other.  
Also, Cologne is beautiful.  The people are very much alive and in the spirit of getting together for conversations and beers and laughing, and bachelor parties.  We were very happy to join them tonight for dinner on the banks of the Rhein.  (Although, not for the bachelor party.)  
Special thanks goes to the local organizing committee for giving Katerina some tender loving care and medicine for her fever and headache.  
Bis bald!
Thomas & Katerina  
Posted By: Thomas & Katerina on Jun 29, 2008 02:03AM
Hope you continue to enjoy the vist. Keep blogging I want more updates. Have even linked to you on my blog.
Alles Gute

JAne
Posted By: jane stranz on Jul 01, 2008 06:02PM