Blog from the Living Letters visit to Germany
The Living Letters blogs are written to share about visits to specific countries or regions around the world, organized by the World Council of Churches (WCC) Decade to Overcome Violence initiative along with assistance from local coordinators, churches and other organizations. The Living Letters blogs are personal narratives from members of the "Living Letters" team and do not necessarily represent the opinion or policies of the World Council of Churches.
Living Letters visit about to start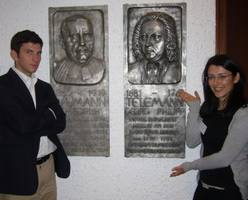 Living Letters are small ecumenical teams that make the message of peace and solidarity palpable on their visit to churches in a foreign country:
"You show that you are a letter from Christ delivered by us,
written not with ink but with the Spirit of the living God, not
on tablets of stone but on tablets of human hearts." 
                                                    (2 Corinthians 3:3,RSV)
On this blog, two members of the team visiting Germany will share their impressions, personal reflections, observations, experiences and photos:
Aikaterini Pekridou, from the Church of Greece, is a PhD student in the Aristotle University of Thessaloniki, Department of Theology. Her specialization is missiology and ecumenical theology with a research focus on human sexuality. She participated in the International Conference on Violence and Christian Spirituality 2005 and the International Conference on Forgiveness, Reconciliation and Peace 2007. Currently, she is involved in the preparation of a spring 2009 meeting, in which biblical and systematic scholars will be invited to discuss a theology of peace in the various strands of the Orthodox tradition. This meeting will be part of the contribution by the Volos Academy for Theological Studies to the International Ecumenical Peace Convocation in 2011 and to the ecumenical declaration on just peace.
Thomas Yonker, is a member of the Disciples of Christ, USA. He is currently working in online marketing for a sports retail store in Columbia, Missouri. During an internship with the World Council of Churches in 2005, he helped to prepare the book Em Tua Graca - Resources for praise and prayer and served on the WCC staff during the assembly in Porto Alegre, Brazil. As an active member of the First Christian Church (Disciples of Christ) in Columbia, he has been on many service and work trips with the college-age youth group at the church. He is about to take up work as a volunteer English tutor with the Refugee and Immigration Services Center of the local Catholic diocese.
Posted By: WCC Communications on Jun 06, 2008 03:39PM