18.02.11 14:38 Age: 1 yrs
Madagascar, in search of peace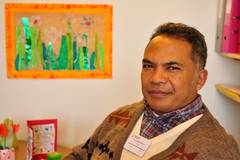 The image of Madagascar was deeply tarnished by the political crisis of 2009. For their part, the churches there have a role in helping to maintain the peace.
Two years ago the idyllic island of Madagascar, home to some of the most pristine land in the world, fell into a political crisis that split the nation and severely threatened the unity of the church.
Approximately 45 percent of the population of Madagascar is Christian with Protestants and Catholics almost equal in number.
Church leaders say that nothing can be done without recognition of faults and the movement toward reconciliation and justice. That will lead to peace they say.
The churches have not been standing idly by during this time, according to Rev. Lala Rasendrahasina, president of the Church of Jesus Christ in Madagascar and a member of the World Council of Churches (WCC) Central Committee meeting this in Geneva.
Rasendrahasina was violently beaten and detained briefly by the military following the transfer of power of former president Marc Ravalomanana and his government in March 2009.
"The church has never ceased to find a way to help the nation out of this crisis and to maintain peace," Rasendrahasina said. "We have never ceased to pray for the nation since March 2009."
"The church has had to mediate between politicians but because of various factors, the results have not always been as successful as we would hope," he said.
The situation in Madagascar is one example of the involvement of churches throughout the world in issues of political animosity and violence as well as peoples' yearning for peace and reconciliation. The dynamics will be examined at the WCC-sponsored International Ecumenical Peace Convocation to be held from 17 to 25 May 2011 in Kingston, Jamaica.
Being caught between politics and religion is not a new phenomenon for the church in Madagascar. There has been some praiseworthy initiative the Council of Christian Churches in Madagascar (FFKM) has taken in the past years searching for the key to the current crisis, Rasendrahasina said.
Recently, a seminar for peace and reconciliation has been organized by the national council to encourage and work with all people in Madagascar through the teaching for forgiveness in order to restore and maintain peace.
The initiative comes despite the various "persecutions" experienced by the church in the political violence of recent years.
Still, even in these moments, Christians in Madagascar have found strong support for their peacemaking efforts in, among others, the all Africa Conference of Churches, the World Council of Churches, the World Communion of Reformed Churches and the Council for World Mission.
"This support has sustained the Church of Jesus Christ in Madagascar" Rasendrahasina said.
"The churches in Madagascar will continue to educate the people in the whole field of moral and ethical behaviour and thinking, because there were many values which were destroyed and badly treated during the crisis", he concluded.
WCC member churches in Madagascar
More information on the Central Committee meeting
---