20.11.08 14:48 Age: 3 yrs
International ecumenical delegation to visit Haiti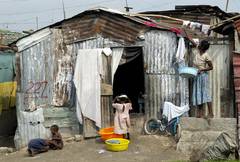 An international ecumenical delegation of church representatives will pay a solidarity visit to churches, ecumenical organizations and civil society movements in Haiti from 24 to 28 November. The team will visit the capital Port-au-Prince and areas affected by recent hurricanes.
The visit aims to express solidarity with the Haitian people and listen to the churches in the country. Through visits to local Christian communities, civil society organizations, humanitarian agencies and political representatives, the international ecumenical representatives will learn about their concerns and hopes.
Even for Haiti, a country that has known few good years in its convulsed history, but 2008 could fairly be called an 'annus horribilis'. Facing endemic corruption problems and ranking as one of the most violent countries in the world, Haiti has seen further deterioration in its political stability as the increase in food prices caused a popular revolt last April. Then hurricanes Fay, Gustav, Hanna, and most recently Ike, brought about serious flooding in many areas, leaving as many as one million Haitian homeless, more than 500 dead and further weakening the country's agricultural capacity.
The ecumenical team will gather first-hand experience through field visits to hurricane-affected areas and by meeting representatives from organizations which are grappling with violence and conflict in the country. It will also get to know initiatives dealing with violence against most vulnerable sectors like street children and women.
Organized by the World Council of Churches (WCC), the visit is hosted by the Protestant Federation of Haiti in collaboration with ecumenical and church agencies based in the country.
The members of the ecumenical delegation are:
Ms. Geneviève Jacques, former WCC director of programmes and former general secretary of CIMADE, France (leader).
Ms. Els Hortensius, programme officer, Department of Democratisation and Peace Building, ICCO, The Netherlands.
Ms. Marie Claude Julsaint, executive secretary for Latin American and the Caribbean of the World YWCA, Haiti/Switzerland
Ms. Elsy Wakil, Middle East regional secretary of the World Student Christian Federation, Lebanon.
Mr. Michael Burke, executive minister, Ministry and Employment Policies and Services, United Church of Canada, Canada.
Mr. Manuel Quintero, director of Frontier Internship in Mission, Cuba.
The international ecumenical solidarity visit to Haiti is part of the WCC Living Letters project. Until 2010, several Living Letters visits take place each year throughout the world in the context of the WCC's Decade to Overcome Violence in order to prepare for the International Ecumenical Peace Convocation to be held in Jamaica in 2011.
---