28.08.09 14:02 Age: 3 yrs
IEPC plans practical approach to peace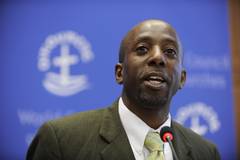 "Tears are not enough." Fernando Enns spoke that phrase in introductory remarks to the World Council of Churches central committee on 28 August. It was repeated several times during a morning plenary session on the WCC's upcoming International Ecumenical Peace Convocation (IEPC).
"It is not an option just to cry over (violence)", said Enns, a member of the Mennonite Church in Germany and professor at the University of Hamburg. "We have to go another route, have another ministry."
The IEPC, scheduled for 17-25 May, 2011 in Kingston, Jamaica, is one route the WCC is taking to address violence in an intentional way. The convocation will be the culminating event for the WCC's Decade to Overcome Violence that began in 2001.
"We are committed to making (the IEPC) a major experience in the life of the churches and a landmark for the WCC," Enns said.
Four speakers shared their personal experiences in the practical applications of peacemaking. Their remarks were tied to daily themes planned for the IEPC: Peace in the Community, Peace with the Earth, Peace in the Marketplace and Peace among the Peoples.
Professor Isabel Phiri of the Commission on Education and Ecumenical Formation shared from her context in South Africa, where she said domestic violence and overall violence against women and children is very high. "This is not a South Africa problem, but a global issue," she said. She spoke about projects taking place through universities, Bible studies, and men's groups to work on positive solutions.
Rev. Aaro Rytkönen of the Evangelical Lutheran Church of Finland discussed the just use of resources and the "protection of God's creation". He drew connections between climate change and violence, pointing out that climate change has reduced food production in some regions. "Where there's no food, there's a greater chance that people are fighting for it," he said.
Rev. Dr Ofelia Ortega of Cuba, the WCC president from Latin America, highlighted wide disparities in wealth and inequalities in trade and economic systems. "The presence of greed is a form of violence, like a virus," she said. She suggested the global South could provide different models of relationships, with an "economy of enough for all".
And Archbishop Bernard Ntahoturi of the Anglican Church of Burundi spoke about the challenges of returning refugees in his country, and healing from past violence. "We see now signs of hope. When people start to talk to each other and listen to each other their cries are heard," he said. He thanked WCC delegations who came to work with churches in Burundi, saying they were valued in bringing about peace.
Many more stories are expected to be shared when some 1,000 people gather in Jamaica. The convocation will also include opportunities for spiritual renewal and for action with local peacemaking efforts in Kingston, according to the event's organizers.
"We commit to making it a memorable and life-changing experience for all those who will attend," said Rev. Gary Harriott, general secretary of the Jamaica Council of Churches and member of the IEPC planning committee.
In addition, an Ecumenical Declaration on Just Peace will be issued by the convocation; a first draft has been completed and is being circulated for comments and responses. Former WCC general secretary Dr Konrad Raiser will oversee a team that will work on the second draft.
Listen to an interview with Rev. Gary Harriott
More information on the International Ecumenical Peace Convocation
More information on the 26 August - 2 September 2009 Central Committee meeting
Free high resolution photos are available
---