27.05.10 18:10 Age: 2 yrs
Development and justice needed to address communal conflicts in Nigeria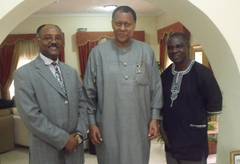 Although it is often portrayed as a religious conflict, the crisis in Nigeria's Central Plateau State is of social and economic nature, the country's foreign minister told church representatives. The church delegation advocated for government action to develop the area and to bring to trial those responsible for an outburst of communal violence last March.
For Nigeria's Minister of Foreign Affairs Henry Odein, the country faces "a lot of challenges which are largely misunderstood by the international community".
The situation in the central Plateau State, where several hundred people were killed last March, is "much more complicated" than it is usually portrayed, Odein argued. According to him, the religious factor compounds a conflict between an indigenous population and an immigrant community in that area. "The issues are of social and economic nature", he said.
Odein expressed his views at a meeting with the World Council of Churches (WCC) programme executive for Africa Dr Nigussu Legesse and the programme director of the Christian Council of Nigeria Rev. Babatunde Olusegun on 21 May.
The church representatives met the minister at his residence in Abuja on behalf of a WCC Living Letters team that had visited the country 15-20 May. "We came here in solidarity with the people of Nigeria", Legesse told Odein, explaining the purpose of the WCC Living Letters visit.
"We visited the villages near Jos, in the Plateau State. We were in Bukuru, where houses and markets were burnt and in Dogonahawa, where 323 people killed last March have been buried in a mass grave. We have met the survivors, talked to them, listened to them and prayed along with them and assured them that the global community of churches is with them in their moment of crisis", Legesse said.
Legesse urged the minister to "help facilitate development in Jos through the federal government". He pleaded that those responsible for the killings are brought before the court of law, "as the question of impunity was a concern widely mentioned by the people we met during our visits".
Living Letters are small ecumenical teams visiting a country to listen, learn, share approaches and help to confront challenges in order to overcome violence, promote and pray for peace. The team visiting Nigeria was made of representatives of churches and WCC staff from Ghana, Kenya, Germany, Norway, Switzerland, Finland, India and Ethiopia.
(Gbenga Osinaike, the publisher of the Church Times of Lagos, Nigeria, reported from Abuja.)
WCC member churches in Nigeria
Other stories on the Living Letters visit to Nigeria:
---