17.08.10 12:03 Age: 2 yrs
Building a culture of peace in Jamaica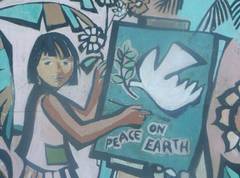 By Jane Stranz (*)
The International Ecumenical Peace Convocation (IEPC) in the Jamaican capital Kingston in May 2011 will be a testimony of solidarity for the culture of peace that churches are trying to build on the island, says the Rev. Dr Paul Gardner, the president of the Jamaica Council of Churches, one of the event's hosts.
"It will give enthusiasm and momentum to the groups that are working assiduously for peace in the various communities, that's what I think it will do for Jamaica," said Gardner, who has been president of the Moravian Church in Jamaica and the Cayman Islands since 2005 and was elected president of the worldwide Moravian Church in 2008.
Gardner was interviewed in Geneva recently where he was taking part in a planning event for the convocation, which is being organized by the World Council of Churches (WCC) and the Caribbean Council of Churches.
"The IEPC will bring a tremendous testimony of solidarity for the culture of peace we are trying to build in Jamaica," say Gardner.
He spoke about Kingston's "garrison communities" where, because one or another political party can almost guarantee 100 percent support, they often ignore criminality. Earlier in the year security forces tried to move into the Tivoli Gardens district resulting in a state of emergency being declared. Such communities are unique to Kingston, he said.
"Political parties turn a blind eye to criminality in those communities. The country was being held hostage" says Gardner. "Politicians need to dismantle the garrison communities so that people feel free to vote for who they want."
Churches, he says, needed to be proactive in such situations.
"I think it is important that churches take far more interest in the development of communities, far more interest in what is happening to people in depressed inner city communities," he states. "I don't think we can have the luxury of not being involved or believing that nothing will happen."
Deliverance from evil
In Jamaica, Gardner says, the main role of the churches has been in advocacy for justice, peace and social transformation:
"One of the good things, if there is any good thing that has come out of what has happened, is the formation of a civil society group holding government accountable for the proper development of communities and the implementation of the things that they promise," he said.
"We are not a political party, we are church people, church leaders and we must be able to speak as we discern what God is saying to the churches at this time," Gardner says.
In recent years an umbrella group, which includes churches that are not members of the Jamaican Council of Churches, has been created. "We have found a way to bring them together," says Gardner. However, he says, "The state of emergency almost threatened the existence of that group … because some of us felt that we had to speak out that the government is wrong. But there were church leaders who were not prepared to do that."
Referring to the passage "deliver us from evil" in the Lord's prayer, Gardner spoke of the challenges churches face in bearing witness in such tense political circumstances.
"Part of the 'deliverance from evil' is not to be caught by a political system because you want to be on the good side of the government," he says. "You have to be independent of the political system so that when you speak you speak clearly and your agenda is different from the political parties."
Gardner says he looks forward with great enthusiasm to the peace convocation in May next year. "Jamaica is still open for business, it's still safe to come to Jamaica." he says with a smile.
The experience of the churches in Jamaica in bearing witness and speaking prophetically in such times, Gardner says, is "a powerful testimony for just peace to Christians and churches around the world".
[643 words]
* Rev. Jane Stranz coordinates the WCC language service. She is a pastor of the Reformed Church of France and of the United Reformed Church in Britain.
More on the International Ecumenical Peace Convocation in Kingston
Country profile and WCC member churches in Jamaica
Opinions expressed in WCC Features do not necessarily reflect WCC policy. This material may be reprinted freely, providing credit is given to the author.
---