10.05.11 14:18 Age: 300 days
Bartholomew I: "peace is a matter of choice"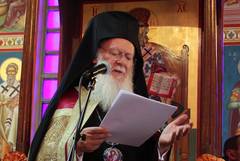 In an encyclical letter intended to be read in congregations of the Church of Constantinople around the world on Sunday 22 May, the Ecumenical Patriarch of Constantinople Bartholomew I welcomes "with great joy" the initiative of the World Council of Churches (WCC) in convening the International Ecumenical Peace Convocation (IEPC) in Kingston, Jamaica from 17 through 25 May 2011.
The patriarch hails the IEPC as "a fitting conclusion" to the global, inter-church "Decade to Overcome Violence" and an opportunity to inspire and enable the creation of new efforts and networks for peace. His letter was written in response to an invitation extended by the WCC to all member churches to mark a Sunday for Peace on 22 May 2011.
The IEPC is expected to attract approximately 1,000 participants from all regions of the world. Its theme is "Glory to God, Peace on Earth", with activities organized around four subthemes: Peace in the community, Peace with the earth, Peace in the marketplace and Peace among the peoples.
"Justice and peace are central themes in Scripture," writes the patriarch in his encyclical letter, adding that "peace always – and ultimately – starts in the heart." Yet true peace will not remain sequestered there, for "this inner peace must be manifest in every aspect of our life and world."
The encyclical offers a confession of sin on behalf of contemporary humanity: "Many of our efforts for peace are futile because we are unwilling to forgo established ways of wasting and wanting. We refuse to relinquish wasteful consumerism and prideful nationalism. In peacemaking, then, it is critical that we perceive the impact of our practices on other people (especially the poor) as well as on the environment. This is precisely why there cannot be peace without justice."
Recalling that Jesus called peacemakers "blessed" (Matthew 5:9), Patriarch Bartholomew adds that "peacemaking is a matter of individual and institutional choice. We have it in our power either to increase the hurt inflicted on our world or to contribute toward its healing. Once again, it is a matter of choice."
The Ecumenical Patriarchate of Constantinople was among the founding members of the WCC in 1948.
Text of the encyclical letter from the Ecumenical Patriarch
Website of the Ecumenical Patriarchate
IEPC website: www.overcomingviolence.org
---