14.03.11 15:20 Age: 357 days
IEPC youth essay contest: five winners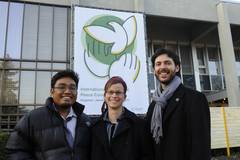 Five essays have been selected as the top entries in the Echos International Ecumenical Peace Convocation (IEPC) essay contest. It is tied to the IEPC, sponsored by the World Council of Churches (WCC), an event which is to be held in Kingston, Jamaica from 17 to 25 May 2011.
Echos, the WCC Commission on Youth in the Ecumenical Movement, launched the competition in September 2010 under the convocation's theme, ʺGlory to God and Peace on Earthʺ. Thirty essays were received from eleven different countries and eight different church families. The Echos screening panel met concurrently with the WCC Central Committee meeting from 14 to 18 February to select the five essay writers who will participate in the IEPC at Kingston as well as in the preceding youth event.
Winners are:
Francis Maberi, Uganda, Church of Uganda - Anglican
Chrisida Nithzakalzani, India, Tamil Evangelical Lutheran Church
Lena Schäfer, Germany, Evangelical Lutheran Church
Ariel Siagan, Philippines, Philippine Evangelical Methodist Church
Zisis Siskos, Greece, Ecumenical Patriarchate – Eastern Orthodox
Twelve of the outstanding essays will be published in an e-book in preparation for the event and will provide a resource for ecumenical networks continuing the work for peace and justice. By the time of the IEPC, the e-book will be available for free downloading on the youth page of the WCC website and the IEPC website. Selected essays cover the four sub-themes of the IEPC: Peace in the Community, Peace with the Earth, Peace in the Marketplace, Peace among the Peoples.
"The results of this process bear witness to the deep commitment of young people in the churches to theological reflection and action to overcome violence," the selection panel said in a presentation to the WCC Central Committee in February.
The selection team was able to complete what they described as "a pleasant and challenging task" making use of web-based conference tools with one member participating remotely from Ontario, Canada.
Moderated by Natalie Maxson, former programme executive of the WCC Youth Desk, the selection panel observed that common choices emerged in choosing outstanding essays. The selection team short-listed twelve outstanding essays on the basis of the quality of their content. Discussions thereafter revolved around representation (e.g., region, gender, country, denominational confession, amount of ecumenical experience, concentration on an IEPC sub-topic). The discussions on representation served as sub-criteria in choosing the final Top 5 winners.
More information on the International Ecumenical Peace Convocation
More information on the Echos Commission

---