04.07.11 16:23 Age: 245 days
Water conflicts pose threat to global peace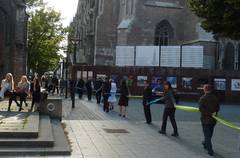 Conflicts over water threaten peace in the world, the general secretary of the World Council of Churches (WCC), the Rev. Dr Olav Fykse Tveit, told a gathering in Germany on the banks of the River Danube to mark the end of the WCC's Decade to Overcome Violence (DOV).
"It may well be that in the coming years water will be at the centre of conflicts," Tveit told the Danube Peace Wave event in Ulm on 2 July.
The Peace Wave project was launched in Ulm in September 2010 and was followed by events along the River Danube in Austria, Slovakia, Hungary and Romania. It was intended as a contribution to and celebration of the WCC's Decade to Overcome Violence.
The anti-violence decade started in Berlin in 2001 and culminated at an International Ecumenical Peace Convocation (IEPC) in Jamaica in May 2011. Water was one of the issues that emerged at the convocation as a source of potential conflict in the world.
"The WCC is supporting the Ecumenical Water Network as one of many steps that demonstrate a link between peace with nature, and peace between peoples who find themselves in conflict over vital resources," said Tveit.
In a sermon at the cathedral of Ulm, Tveit highlighted the conflict between Israelis and Palestinians as an issue underlying almost all the conflicts in the Middle East and into Asia.
In the Middle East as well, he said, "the unjust occupation and use of water is one of the issues in the conflict between Israelis and Palestinians".
Tveit said Christians everywhere have a role to play in the search for a just peace in Israel and Palestine. "What we believe, what we say, can be a contribution to peace and justice – or to something else entirely," he said.
The WCC he said has launched an Ecumenical Accompaniment Programme in Palestine and Israel through which volunteer accompaniers observe and understand the consequences of injustice and violence.
The International Ecumenical Peace Convocation in Kingston, Jamaica, brought together a thousand individuals working for peace and justice from over a hundred countries. As well as celebrating the achievements of the WCC's Decade to Overcome Violence, the IEPC also encouraged churches and individuals to renew their commitment to nonviolence, peace and justice.
"The issue of peace is an issue for all of us. It starts with us, and our daily interaction with other human beings. It is about the effects of our lifestyle on others," said Tveit.
"And to return to the issue of water: our high water usage has an impact on the water economy that in many places is getting out of balance. And we can observe the same thing about food, energy, and the monetary economy."
Full text of Tveit's sermon (in German)
Website of the Danube Wave of Peace:
www.donaufriedenswelle.eu
Website of the Ecumenical Water Network:
http://water.oikoumene.org
Website of the Ecumenical Accompaniment Programme in Palestine and Israel:
www.eappi.org
Website of the International Ecumenical Peace Convocation:
www.overcomingviolence.org
Video on water workshop at the IEPC
---