16.05.11 15:07 Age: 294 days
Video streaming the peace convocation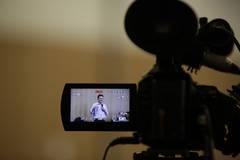 The World Council of Churches (WCC) will be web streaming the plenary sessions and special events of the upcoming International Ecumenical Peace Convocation (IEPC). The video streams will be live from the Mona campus of the University of West Indies in Kingston, Jamaica, where the convocation is being held, beginning Wednesday 18 May.
The streaming will be available through the IEPC website www.overcomingviolence.org and the Jamaica Information Service http://www.jis.gov.jm/videos/live.
Following is the web streaming schedule. All times are Jamaica local time (GMT-5 hours) and subject to change.
For more information about the speakers and panel members please download the IEPC handbook (pdf, 784 KB) at www.overcomingviolence.org
Wednesday 18 May (time and speakers subject to change)
Time: 14:30 - 16:00

Opening Prayer and worship service
Time: 16:30 - 18:30
Plenary: Opening, DOV celebration, keynote address, greetings
Scheduled speakers:
Rev. Dr Olav Fykse Tveit
Rev. Dr Paul Gardner
Rev. Dr Margot Kässmann
Metropolitan Dr Hilarion of Volokolamsk
Canon Dr Paul Oestreicher
Thursday 19 May (time and speakers subject to change)
Time: 10:30 - 12:30
Plenary: Peace in the Community
Scheduled speakers and panel:
Martin Luther King III
Prof. Ram Puniyani
Dr Muna Mushahwar
Dr Deborah Weissman
Dr Tania Mara Viera Sampaio
Asha Kowtal
Rev. Karen Thompson
Friday 20 May (time and speakers subject to change)
Time: 10:30 - 12:30
Plenary: Peace with the Earth
Scheduled speakers and panel:
Rev. Tafue M. Lusama
Sr Ernestina López Bac
Adrian Shaw
Lic. Elias Crisostomo Abramides
Fr Prof. Dr Kondothra M. George
Choir from Global Network of Religion for Children
Saturday 21 May (time and speakers subject to change)
Time: 10:30 - 12:30
Plenary: Peace in the Marketplace
Scheduled speakers and panel:
Archbishop Valentine Mokiwa
Omega Bula
Fr Emmanuel Clapsis
Rev. Dr Roderick Hewitt
Rev. Garnett Roper
Dr Rommel F. Linatoc
Monday 23 May (time and speakers subject to change)
Time: 10:30 - 12:30
Plenary: Peace among the Peoples
Scheduled speakers and panel:
Setsuko Thurlow
Dr Christiane Agboton-Johnson
Dr Patricia Lewis
Dr Lisa Schirch
Archbishop Avak Asadourian
Rev. Kjell Magne Bondevik
Tuesday 24 May (time subject to change)
Time: 10:30 - 12:30 and 14:30 - 16:15
Closing Plenaries
---