22.05.11 23:00 Age: 288 days
Outcomes of IEPC will help inspire local peacemakers, says WCC general secretary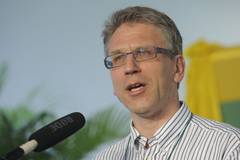 More than midway through the International Ecumenical Peace Convocation (IEPC) in Kingston, Jamaica, World Council of Churches (WCC) general secretary Rev. Dr Olav Fykse Tveit said he believes the convocation's outcomes will both tangible and significant.
Some 1,000 theologians, faith leaders and peace activists have been gathered at the IEPC, now in its fifth day, to share insights on how best to serve the cause of peace locally, regionally and internationally.
Participants have discussed peace in the community, peace with the earth, and peace in the marketplace; they will continue with discussions on peace among the peoples on Monday.
"I think many participants here really feel that this is a place of sharing the tough realities people live and to gain some inspiration on how to deal with those realities. It is also a place where we get new ideas and new strength in our vision for the church as a peacemaking community. It's not only our duty but also our joy to be together," Tveit said Sunday afternoon.
On Tuesday, the final day of the IEPC, participants will weave together their experiences, stories and inspirations to create a final convocation message. Being together as a single group has enabled IEPC participants to create the relationships necessary to formulate a message that will help peacemakers worldwide continue walking a path toward just peace.
"I hope the message will give us the sense of how our call to justice and peace is a genuine Christian message and calling that is uniting us. We have here a celebration of the Decade to Overcome Violence and manifestation of how we as churches can address situations of violence. I hope the message will give us a vision toward the future in which we can believe," he said.
The IEPC participants have had a strong experience of being united and having a clear focus together. The fruits of this will be seen in the experiences participants take back to their home churches and communities. In additions, resources for local churches and pastors will include the IEPC's final message, documents and transcripts of speeches.
"Many churches are interested in clarifying the concept of how we as churches are peacemakers. I hope that we all can take back a renewed understanding of how the call to work for peace and justice is a Christian calling. This is actually what Christ has called us to do – to be peacemakers," he said.
Even more than a message or documents, Tveit said he hopes that a sense of values unites IEPC participants who will pass on those values as they return home to their many countries.
"I hope that from here we will have an understanding that we have some Christian values together that can be described in terms of justice and peace, and that these values unite us."
The IEPC has been about gathering new ideas and a new sense of hope that is strong enough to help participants realize it is possible to make justice and peace a reality, not just a dream and a wish.
As IEPC attendees have shared experiences with each other, they have already come to realize that, if one country faces obstacles to a just peace, then the entire Christian world faces those same obstacles.
"This is also part of the strength of the Christian community, that we are willing to carry the burdens for one another."
Jamaica, as the host country for the IEPC, has played an important role in helping participants express their feelings, he added. "But also helped us to see the reality of violence in their context and how it can be addressed."
"This country has a history that will remind us forever about how even Christian countries could be part of a colonial process, slave trade, and what was real oppression. And yet this culture is able to express its joy and feelings as a genuine expression of human life and shared life. In many ways, it will remain a Jamaican experience for us."
WCC member churches in Jamaica
High resolution photos of the event may be requested free of charge via photos.oikoumene.org
---