15.12.10 17:06 Age: 1 yrs
Violence in a Philippine village: one family's story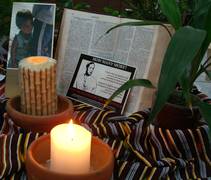 By Aneth Lwakatare (*)
"May 2010 is when it all started", Yna (not her real name), mother of 17-year-old Yuri, told a group of international church representatives who had come to the Philippines in early December in order to review the human rights situation there. "A group of military men were sent to live in our village and to observe the general election that was to take place. They did not leave even after the election was over. We knew why they stayed: they wanted to recruit minors into the army."
"My husband and I would not agree to send our son to the military. Yuri did not want to be part of it. The military started threatening us, and we experienced all kinds of harassment. They even summoned my 11-year-old son," Yna continued.
She said that the situation worsened on 28 August. Her son was invited to a youth celebration in the village that was organized by the military. At the end of the celebration her son was accused of sexual harassment after he entered a female comfort room without realizing it. There was no witness to the alleged sexual harassment, and the supposed victim did not claim to have been harassed.
This did not protect her son from being beaten severely by soldiers who even threatened to kill him if he told anyone what had happened to him. "My son arrived home crying and suffering from the pain that had been inflicted on his body," Yna explained. He had been brought home by two village watchmen.
Out of fear for the safety of his family, Yuri did not tell his story to anyone for three days. It took him time to open up and share what had happened to him. His physical wounds did not heal quickly, but they did heal with time.
"Wounds were not the only evidence left by the violence Yuri had experienced. His behaviour began to change, and he became a violent child," Yna testified mournfully. "It reached a point when he even threatened to kill me. Yuri was no longer the son I had raised."
With the help of the National Council of Churches in the Philippines and the human rights group Karapatan (Alliance for the Advancement of People's Rights), the family managed to bring Yuri to a hospital for a psychological check-up. The diagnosis was that he was suffering from a mental condition. Yuri was sent to a private mental health hospital where he stayed for some time.
Yna found that her son was in a much better state when he returned from the hospital, but the medicine that the doctors had prescribed for him was too expensive for the family to afford. His mental health began to deteriorate once more.
Yna and her immediate family have now moved to Manila as they are no longer safe in their former home. She is told that members of the military still harass and threaten other family members in the village, demanding to know where Yuri and his family have moved.
"I never thought of moving to Manila, but with this situation we had no choice," said Yna. She added that being in Manila does not make her stop worrying. "We are longing for the day when we will feel safe again," she concluded.
The group of Christians from Asia, Africa, Europe, Canada and Australia had come to the Philippines as "Living Letters" on behalf of the World Council of Churches (WCC) in order to learn about the current human right situation and about the churches' advocacy against violence.
This Living Letters visit was one in a series of visits by ecumenical teams during the past three years to various countries, organized ahead of the International Ecumenical Peace Convocation (IEPC), May 2011 in Jamaica. The visits are meant to accompany churches who long for peace, security and reconciliation in the midst of conflicts and violence.
(*) Aneth Lwakatare is a WCC communications department intern from Tanzania.
More information on the Living Letters visit to the Philippines
WCC member churches in the Philippines
---