03.12.10 10:04 Age: 1 yrs
"There is hope" in the Philippines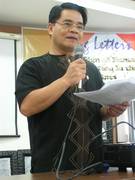 "Your presence here is a sign that we are not alone in these times of massive human rights violations," Fr Rex Reyes, general secretary of the National Council of Churches in the Philippines (NCCP), told a delegation of Christians from Australia, Canada, Indonesia, Europe and Africa on Thursday 2 December.
The international church representatives are travelling as "Living Letters" on behalf of the World Council of Churches (WCC) in order to learn about the current human right situation in the Philippines and about the churches' advocacy against violence.
This Living Letters visit is one in a series of visits by ecumenical teams during the past three years to various countries, organized ahead of the International Ecumenical Peace Convocation (IEPC), May 2011 in Jamaica. The visits are meant to accompany churches who long for peace, security and reconciliation in the midst of conflicts and violence.
In his welcome note, the NCCP general secretary described the Living Letters visit as an act of solidarity and of pastoral care by Christians who feel pain for their brothers and sisters in the Philippines.
The NCCP, which is hosting the 3-day visit, has been one of the key ecumenical organizations advocating for human rights in the Philippines.
Sonny Africa, research head of the IBON Foundation, characterized the national situation as being politically and economically undemocratic. "It is very hard to respond to the need of the poor, who suffer from all kinds of human rights violations, when all sectors are grounded on the big business-driven victories," he said.
Marie Hilao-Enriquez, the chairperson of the human rights group Karapatan (Alliance for the Advancement of People's Rights), added: "Comparing the human rights situation we had in the past nine years, up to 2009, and the current state of affairs, nothing has really changed at all."
Extra-judicial killings, attempted killings, forced disappearances, abduction and other forms of human rights violence still remain the biggest threats in the Philippines, she said.
Despite all the challenges that human rights advocacy organizations face in the Philippines, Hilao-Enriquez pointed to the cooperation of the NCCP as a positive factor, as well as the efforts by all its member churches in promoting respect for human rights.
The meeting ended with testimony given by victims of human rights violations and others whose relatives have suffered injustices. The experiences they shared and the experiences of many others require international attention.
At the end of the session, members of the Living Letters team were asked an emotional question: From what they had heard, was there any hope? The Rev. Dr Dan Sandu answered on behalf of the whole Living Letters delegation: "There is hope, and more hope if we love our neighbours as we are supposed to; yes, there is hope."
---