19.08.10 13:54 Age: 2 yrs
WCC Living Letters team to visit Indigenous Peoples of Australia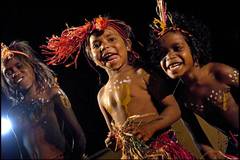 The World Council of Churches (WCC) is sending an international ecumenical Living Letters delegation to visit the Indigenous Peoples in the Northern Territory of Australia from 12 -17 September 2010.
The visit is in response to an invitation extended by the National Council of Churches in Australia (NCCA) to shed light on the human rights situation of Aboriginal and Torres Strait Islander peoples and to show solidarity with the Indigenous people who feel their voices are not heard.
Living Letters are small ecumenical teams which visit a country to listen, learn, share approaches and help to confront challenges in order to overcome violence, promote and pray for peace. Living Letters visits are part of the WCC Decade to Overcome Violence.
The invitation to the WCC was extended following a forum held in 2009 by the National Aboriginal and Torres Strait Islander Ecumenical Commission (NATSIEC) of the NCCA.
The visit will focus on concerns that the Aboriginal and Torres Strait Islander Indigenous Peoples have with regard to the 2007 "Northern Territory Emergency Response" –locally known as the "Intervention".
A similar WCC delegation visited the region in 1981. At that time, the delegation listened to the cries of Aboriginal and Torres Strait Islander peoples due to poverty, powerlessness and injustice with regard to questions of land rights, mining, the legal system, housing, education, health and unemployment.
The 1990 WCC consultation in Darwin (Australia) on "Land is our life", as well as the subsequent statement on "Land and Indigenous Peoples: Move Beyond Words" by the WCC Assembly in Canberra, 1991, are important milestones of the ecumenical journey of Indigenous Peoples.
The Living Letters team travelling to Australia in September will be composed of:
International delegates:
Ms Hera Rere Clarke, WCC Central Committee member, New Zealand, Anglican
Ms Renée Grounds, United Methodist Commission on Religion and Race, United States
Dr Hanna Grace, Egypt, Coptic Orthodox
Rev. Dr Mindawati Perangin-Angin, WCC Central Committee member, Indonesia, Karo Batak Protestant Church
Fr Rex Reyes, general secretary of the National Council of Churches in the Philippines, Episcopal
Rev. Dr Anthony Dancer, Social Justice Commission of the Anglican Church in Aotearoa, New Zealand, and Polynesia (accompanying member)
Local delegates:
Ms Georgia Corowa, coordinator, Queensland Churches Together Indigenous People's Partnership
Rev. Sealin Garlett, deputy chair of the NATSIEC Commission, Uniting Church in Australia
WCC and NATSIEC-NCCA staff:
Mr Graeme Mundine, NATSIEC-NCCA (local coordinator)
Ms Maria Chavez Quispe, WCC (team leader)
Media contact: Ms Gabrielle Russell-Mundine, NATSIEC-NCCA, +61-419.23.87.88 or grussell[at]ncca.org.au
More information on WCC work with Indigenous Peoples
More information on the visit to Australia
Daily updates will be posted on the NATSIEC blog
---