16.12.09 14:18 Age: 2 yrs
Getting a dose of reality on climate change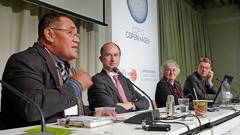 By Mark Beach (*)
Why should religious people be involved in the climate change debate? And how should religious people, particularly Christians, view themselves in relation to the earth and God, the creator of the earth?
These two questions were part of three presentations at a 90 minute "side event" called "Renew the face of Earth: Faith-based approaches to climate justice," held Monday, 14 December during the United Nations climate change negotiations, CPO 15, currently underway in the massive Bella Centre in Copenhagen, Denmark.
"We know the problem," Joy Kennedy, a member of the World Council of Churches (WCC) Working Group on Climate Change and the United Church of Canada, said at the event organized by the WCC and Caritas Internationalis.
Kennedy offered the first presentation in the faith-based side event. In her talk she carved out the moral issue of climate change to the more than 140 people who packed the meeting room to standing room only.
When it comes to climate change, the world's citizens are recognizing the problem, Kennedy said. "There is imminent danger, the threat is real and people are suffering already because of climate change and at its root climate change is a profound moral issue."
The question for Kennedy was one of understanding who people are in relation to the earth and God the creator of earth. "Simply put, as we truly believe we are in our hearts, so we act."
"And if we believe the planet is just a natural resource bank, there to be exploited, excavated, extracted, dumped on, then we will treat it that way. But if we believe we are part of a sacred creation dependent on its gifts for our very survival and for life, then human activity requires responsibility and we will act differently because we love and serve and protect our home."
Kennedy said there is a need for some global housekeeping. The church needs to move from a theology of dominance, where for the sake of climate justice "we need to find ways to replace greed with an economy of enough."
In order to change that way we think, Kennedy said, there is need for confession, repentance and restitution. "We have a bad habit, a belief in a theology of dominance that humans rule over the earth. Well, I have to tell you, sisters and brothers, it is past time that we confess that."
In exchange for the theology of dominance, Kennedy said, a theology of humility is needed. And now more than ever there is a need for making ethical and moral choices that benefit the whole creation, she added.
The problem is not with the poor but the rich
Following Kennedy, Fr Erny Gillen, president of Caritas Europa, laid out the moral foundation for why religious people should be involved in the debate around climate change.
"Not because we have better solutions to a technical problem" and "not because we are to impose our views on other believers or non-believers," he said. He continued by saying the involvement of religious people was not because "we are simply a part of civil society" or "we would have access to extra-terrestrial wisdom or knowledge."
But because "religious people share the human condition and we share this human condition with all other people living on earth," he concluded.
Echoing Kennedy, Gillen said, "climate becomes a focus that says we can no longer deny we belong to something larger. Today we have become so strong and powerful that we are able to threaten our natural house."
The moral framework for discussions about climate change and climate justice for Gillen would include human dignity as a core principle, solidarity, the common good or sustainability and preference toward the poor.
"It is time we have the guts to name the problem. It is not sex, not money, not the poor. It is the rich," Gillen said.
"Let's make poverty history, but shouldn't we say let's make richness history, let's make greed history."
Reality check
Still all of this theological thinking required some on-the-ground thinking. And that was duly offered in the third and very brief presentation of Rev. Tofiga Falani, president of the Congregational Christian Church of Tuvalu, when he said, "our petition is that we want to survive."
Having travelled to Copenhagen over two days from the South Pacific atolls of Tuvalu via Fiji, New Zealand, the United States and United Kingdom, Falani, who is also a member of the WCC Central Committee, said his is small voice from a place you can't even see on the world map.
Tuvalu is a series of south Pacific atolls that stands barely a meter above sea level and is threatened by rising sea levels.
According to climate scientists the 12,000 people on Tuvalu and others on small islands in the South Pacific, are at the forefront of the climate change issue because of the threat to their low-lying land, he said.
"The role of the church is to accommodate any issues that jeopardize the way forward for our people ... because the people are carrying God's image," he said.
"We rely so much on hope and your prayers," he said. "Our mission is that we are trying to encourage our people that God loves everyone."
Falani's message to the group was short but poignant and offered the much need reality check about the threat caused by climate change. It is real.
"These are the people God created and placed on those small atolls in the South Pacific," he said. He didn't need to say much more to get the message of climate change and climate justice across to the group.
(*) Mark Beach is WCC director of communications.
Audio recordings of the presentations and other ecumenical events at the summit
Press release:"Bells ring a wake-up call for climate justice", 14 December 2009

Opinions expressed in WCC Features do not necessarily reflect WCC policy. This material may be reprinted freely, providing credit is given to the author.
---