05.08.09 15:02 Age: 3 yrs
Bolivian churches struggle to overcome violence amid change and political tension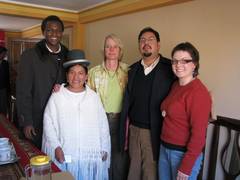 The more radical social and political changes are, the more likely they are to bring out tension amongst social actors. It is in a context such as this - a Living Letters delegation visiting Bolivia in mid July heard - that Bolivian churches struggle to overcome violence in society.
The key word to understand violence in Bolivia is "change", said Jaime Bravo, a member of the Evangelical Lutheran Church in Santa Cruz de la Sierra, speaking to members of the Living Letters team, drawn from Germany, Norway, Bolivia, Argentina, Brazil and Kenya.
Living Letters are small ecumenical teams visiting a country to listen, learn, pray for peace and share approaches to overcome violence. They are organized in the context of the WCC's Decade to Overcome Violence in order to prepare for the International Ecumenical Peace Convocation in Kingston, Jamaica, in May 2011.
Santa Cruz de la Sierra, the largest Bolivian city, is located in the east. Agriculture, gas and oil production have made it the richest part of the country, enabling a small elite of landlords and businessmen to initiate a separatist movement.
According to Bravo, Bolivia has undertaken a profound change over the last years. Its democracy has been strengthened and now benefits also the majority of the population, which used to be overlooked by the government. There are 36 indigenous peoples, including the Aymara, the Quechua and the Guaraní.
A new constitution which gave greater rights regarding land and cultural identity to the indigenous population was approved by 60 percent of voters in a referendum held last January, but is resisted by a minority made up mainly of wealthy urban elites. The political polarization between the two parties was so strong it put Bolivia on the brink of a civil war in 2008, Bravo said.
Rev. Luis Cristobal Alejo, president of the Evangelical Lutheran Church, sees the country facing economic, ethnic and gender violence, even within the churches. Alejo, whose church's constituency is 80 percent indigenous, and other church leaders met the Living Letters team in the country's administrative capital La Paz.
For Abraham Colque, rector of the Andean Ecumenical Higher Institute of Theology (ISEAT), Bolivia has been founded on the ethnic and cultural discrimination of indigenous peoples. Today, he said, it is time to join hands and build new symbols able to express a political project rooted in the social and indigenous movements.
According to Bishop Javier Rojas, of the Evangelical Methodist Church, since 2003, when social protests forced the resignation of President Gonzalo Sanchez de Lozada, the Bolivian people has been on a journey towards "re-founding Bolivia for the new millennium".
Rojas, whose church's members are mainly of Aymara descent, hailed President Evo Morales' project of a plurinational state. Morales, an Aymara himself, has been elected the country's first indigenous president in December 2005.
Within the context of political tension, the church is concerned with ethnic and gender violence, as well as the gap between the poor and the rich, and the looting of the country's natural resources, which is also a form of violence, said Rojas.
The Living Letters delegation asked its hosts for their expectations towards the Ecumenical Declaration on Just Peace to be adopted at the International Ecumenical Peace Convocation. Ines Panoco and Noemi Soto, two staff members of the Women's House in Santa Cruz responded that the declaration should include a plea for governments to be consistent in their words and deeds, for a distributive economy, for laws protecting human rights, changes in political structures and a new global economical architecture.
Addressing violence against women
The Women's House is located in Plan 3000, a poor neighbourhood on the outskirts of Santa Cruz whose inhabitants are mostly of indigenous descent. It works to address domestic violence through assistance to victims, a shelter, legal advice, gender awareness and a radio station. According to Noemi Soto, gender-related violence is rooted in intolerance and racism as well as economic and political factors.
For Alcira Agreda, coordinator of the ISEAT branch in Santa Cruz, women suffer because of society's predominantly patriarchal mindset that causes tragedies ranging from early pregnancies to suicides. On the other hand, added Bertha Uturunco, vice-president of the Evangelical Lutheran Church, women usually are afraid of talking about their problems, which makes it difficult for them to recover self-esteem and to understand their situation as a gender issue. Education is the way to overcome gender violence, Uturunco said.
In La Paz's neighbouring city of El Alto, the Living Letters team visited the Women's House Suma Jakaña. The centre, an independent organization initiated by members of the Lutheran Church, shelters women and children who have become victims of domestic violence and organizes workshops to help the women discover their potentials.
"We need to promote a change in the spirituality of both women and men, as well as a theological reflection to deepen what it means to be God's image," said Rev. Verena Grüter from Germany, a member of the Living Letters team.
WCC member churches in Bolivia
Living Letters visit to Uruguay and Bolivia
---