04.12.08 10:19 Age: 3 yrs
International ecumenical team to visit Colombia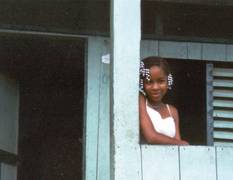 A team of church representatives from around the world will pay a solidarity visit to churches, ecumenical organizations and civil society movements in Colombia from 6 to 12 December.
One of the most violent countries in the world, Colombia has been in midst of a conflict between the army, two groups of left-wing rebels and right-wing paramilitaries since the 1960s. Drug-related crime adds to a situation that the United Nations has described as one of the world's worst humanitarian crises. During the decades-long conflict tens of thousands of Colombians have been killed while some three million have been forced from their homes.
Visiting the country as "Living Letters" on behalf of the World Council of Churches (WCC) the international team will be hosted by the Ecumenical Network of Colombia.
Living Letters are small ecumenical teams visiting a country to listen, learn, share approaches and help to confront challenges in order to overcome violence, promote and pray for peace.
The Living Letters team will visit locations in the western and north-western regions of the country, where they will meet communities in the so-called "humanitarian zones". These are clearly demarcated areas inhabited by civilian population where armed forces of any kind are not supposed to enter. Their goal is to protect civilians from suffering human rights violations.
In the city of Barranquilla the team will meet representatives of organizations of displaced people and of the Presbyterian Church of Colombia. In the capital city Bogotá they will meet civil society organizations, UN officials and representatives of communities of African descent as well as of indigenous peoples.
The members of the ecumenical delegation are:
Bishop (emeritus) Aldo Etchegoyen, Evangelical Methodist Church, Argentina
Bishop Solito K. Toquero, United Methodist Church, Philippines
Mr Marlon Zakeyo, Zimbabwe Advocacy Office in Geneva, Switzerland
Rev. Jorge Ziljstra, Latin American Council of Churches, regional secretary for the Caribbean and Great Colombia, Puerto Rico
WCC staff:
Rev. Christopher Ferguson, WCC Representative to the United Nations
The international ecumenical solidarity visit to Colombia is part of the WCC Living Letters initiative. Until 2010, several Living Letters visits take place each year throughout the world in the context of the WCC's Decade to Overcome Violence in order to prepare for the International Ecumenical Peace Convocation to be held in Jamaica in 2011.
Ecumenical Network of Colombia (website in Spanish)
WCC member churches in Colombia
---