10.12.08 17:06 Age: 3 yrs
Pakistani Christians, service in the midst of conflict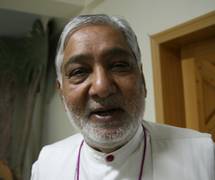 By Henrik Hansson (*)
Pakistani Christian communities confronted with the presence of the Taliban and Al-Qaida serve their Muslim neighbours in an unfriendly environment.
Christians in the North Western Frontier Province of Pakistan find themselves in the midst of a complex conflict involving regional and global powers. With Pakistani government security forces fighting Taliban from within the country and Al-Qaida militants from beyond it, the border to Afghanistan is not much more than a demarcation line on the map. In the mountainous landscape extremists can roam freely. Add in cross border strikes from US military based in Afghanistan and it is hard to know who is who in the very tense situation.
"We deem it a privilege that we as a church are present in perhaps the world's most hostile and vulnerable areas at the moment", said the bishop of Peshawar, Munawar K. Rumalshah, from the Church of Pakistan, speaking to a Living Letters team from the World Council of Churches (WCC).
"Living Letters" are small international ecumenical teams traveling to locations around the world where Christians strive to overcome violence. At the end of November one such a team made of representatives from the United States, Armenia and the Netherlands visited Lahore and Islamabad. The team met Rumalshah at the triennial Synod meeting of the Church of Pakistan in Lahore.
The capital of the North-West Frontier Province, Peshawar is the administrative centre for the Federally Administered Tribal Areas of Pakistan. As the head of a diocese based there, Rumalshah explained what it means to be "neighbours of the Taliban and Al-Qaida" in what he defines as "literally a battle ground".
"God has allowed us to be there, in his name. To serve humanity, especially people who despise and hate us by cleaning their wounds and nurturing the children" the bishop said. That may be, he thinks, why the diaconal centres run by the diocese have not been attacked. It is perhaps in the most difficult of circumstances that churches show the most generous form of Christianity.
The church centres are "not exclusively for Christians, in fact 95 percent of those benefitting from our education, development work and health care are Muslims", Rumalshah explained.
For Rumalshah and his community, trying to live the gospel is about being accepted as a minority, at least to some extent as different. In this unstable region it is probably also a matter of sheer survival. But Christians in other countries do not always help in the communities' struggle for existence.
Pakistani Christians are often perceived as representatives of the West. When caricatures of the prophet Mohammed were published in Denmark a few years ago Christians in Pakistan faced violence and harassment. The second time the drawings were published, Christians themselves demonstrated against them. "You people sneeze in the West and we get a cold," the bishop said.
Knowing that most of the new recruits to the extremists are young, the Diocese of Peshawar also works with young people. Just as in so many other churches around the world Christian young people in North Western Frontier Province gather for prayer and for learning.
There are youth groups in all 25 parishes doing bible study, capacity building around issues such as HIV and AIDS and drawing young people away from areas where extremists recruit.
Creating the awareness that there are other possibilities in society "is essential for the church", claims Rev. Insar Gohar, a church youth coordinator in Peshawar. However, he also added that young people "sometimes feel some kind of discrimination, or when the Western world does something against Islam …then we suffer a lot and sometimes extremist Muslims attack our institutions and churches."
As a struggling minority in sometimes harsh circumstances, Christians in Peshawar have to remain strong in their faith, committed to their church and to each other. That is what keeps their families and communities together.
(*) Henrik Hansson, WCC Communication intern, is a member of Church of Sweden.
Audio file: Bishop of Peshawar Munawar K. Rumalshah on the role of the church amidst conflict (mp3 format, 1:47 min)
More information on the Living Letters visit
---