18.08.08 10:50 Age: 4 yrs
Education and dialogue as antidotes to extremism in Indonesia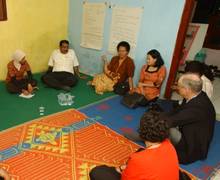 By Maurice Malanes (*)
Just a few days after an ecumenical team representing the World Council of Churches (WCC) ended its visit to once conflict-ridden communities in Indonesia on 24 July, some Muslims reportedly stormed a Protestant school in the capital Jakarta and 265 students were injured.
Another report said that thousands of Christians took to the street in Jayapura, capital of the Indonesian province of Papua, on 5 August to protest against the introduction of sharia or Islamic law in the province.
The good news was that the anti-sharia protest in Jayapura was peaceful and Christian leaders were assured that sharia would not be imposed in the Christian-dominated province, which became autonomous in 2001.
These incidents illustrate the continuing challenge of rising extremism in the world's most populous Muslim-dominated country, a concern both Christian and Muslim leaders have sought to strategically address.
To both Christian and Muslim leaders, one antidote to extremism is education. "Through educational exchange, we are moulding agents of reconciliation and harmony," said Rev. Dr Margaretha Hendriks-Ririmasse, one of the chairpersons of the Communion of Churches in Indonesia (PGI).
Also a vice-moderator of the World Council of Churches, Hendriks-Ririmasse was among local church leaders who welcomed members of the ecumenical Living Letters team, who visited Ambon, West Papua, Central Sulawesi, and West Timor 17-24 July.
Hendriks-Ririmasse cited six Muslim students who just graduated in Christian theology from the Christian University of the Moluccas, which is run by the Protestant Church of the Moluccas. "We also invite Muslims to teach at our university on Islamic studies," she said in an interview. "Through this exchange, we are actually encouraging and cultivating openness and pluralism."
Such exchange, Hendriks-Ririmasse hopes, can prevent future conflict. From 1999 to 2002 the Moluccas where the scene of armed fights between Christians and Muslims. The outbreak of violence was ascribed to a simple altercation between a Christian bus driver and two Muslim passengers at a bus terminal in Ambon in January 1999.
"It is only through education that we, Christians and Muslims, can respect our differences," said Hendriks-Ririmasse. "Through education, we can stop thinking of others as objects of Christianization or Islamization. The goal of education is not to proselytize but to respect each other's faith and so we become more open and tolerant."
Similarly, other religious leaders see education as the antidote to Christian fundamentalism. Rev. Ishak Pule, first chairman of the Christian Church of Central Sulawesi (GKST) synod: "Fundamentalism emerges if we don't learn the faith of others."

 

According to Pule, 3,000 out of the estimated 100,000 Christians in the Muslim-dominated town of Poso are considered fundamentalists whose main goal is to "Christianize" or proselytize people. "Unfortunately, it is Christianization or proselytization, which makes dialogue with Muslims difficult," says Pule.

 

Pule, along with Muslim leaders, met members of the Living Letters team on 19 July at the GKST synod office in the Christian-dominated town of Tentena.

 

Poso and Tentena, all in Central Sulawesi, also were areas of inter-religious conflict in recent years.

 

Muslim leader Abdul Malik Syahadat, general chairman of the interfaith Communication Forum for Religious Harmony, too, sees hope in interfaith programmes for the youth, describing these as building blocks for a peaceful Indonesia.

He cited interfaith youth camps during which Christian and Muslim youth develop camaraderie and build mutual trust, as well as peace-builder training workshops for youth.

Living letters for peace

 

"Living Letters" are small ecumenical teams traveling to locations around the world where Christians strive to overcome violence. The team members, who are themselves involved in ecumenical activities and peace building in their home countries, express the solidarity of the World Council of Churches (WCC) fellowship, which comprises 349 churches worldwide.

 

Until 2010, several Living Letters visits take place each year throughout the world in the context of the WCC's Decade to Overcome Violence in order to prepare for the International Ecumenical Peace Convocation in 2011.

 

Members of the team that visited Indonesia, 17-24 July, were:

 

Rev. Vanessa D. Sharp, Presbyterian Church (USA)

Mr Yoonsuk Sol, Presbyterian Church of Korea, South Korea

Rev. Prof. James Haire, Uniting Church in Australia

Dr Monika Lude, Association of Churches and Missions in South Western Germany (EMS)

Ms Beatrice Mukhtar-Mamuzi, Episcopal Church of the Sudan
While some Muslims insist to implement sharia or Islamic law, particularly in areas which have become autonomous, other Islamic scholars push for continuing dialogue. They stress the country's context of pluralism and demand that sharia advocates must put substance over symbolism.
"In pluralistic countries, it's not so simple to impose sharia law. We have to be careful, otherwise it will backfire. The more important thing is to impose a moral movement and build understanding among people," Hasyim Muzadi, chairman of the largest Muslim organization in the country, Nahdhatul Ulama, told The Jakarta Post recently.
The 1945 Indonesian Constitution does not include sharia and efforts to amend it so that Islamic law would be included have failed. The Indonesian province of Aceh is the only area where sharia is part of a local autonomy deal.
But some local governments have tried to bring in sharia regulations through the granting of local autonomy rule, and this worries Christian communities, especially in eastern provinces such as Papua, where Christians are the majority but where a substantial number of Muslims continue to migrate and settle.
(*) Maurice Malanes is a freelance journalist from the Philippines. Currently a correspondent for Ecumenical News International (ENI), he also writes for the Manila-based Philippine Daily Inquirer, and the Bangkok-based Union of Catholic Asian News (UCAN).
More information on the Living Letters visit to Indonesia
WCC member churches in Indonesia
---