19. Mar 10 - 21. Mar 10
Peacemaking in a time of global crisis
Dorset, United Kingdom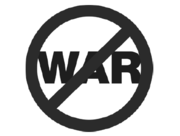 a weekend organized by the Movement for the Abolition of War and Anglican Pacifist Fellowship
at the Hilfield Friary in Dorset, United Kingdom
19 to 21 March 2010
The weekend will be led by Dr Tony Kempster, project director of Movement for the Abolition of War, with assistance from singer-songwriter, Sue Gilmurray. Both are officers of The Anglican Pacifist Fellowship.
Topics covered will include:
The threats that humanity faces, particularly global warming and the lack of resources, and how these may lead to military conflict;

The international arms trade and development of new weapons;

The human cost of war, as experienced both by those involved in military activities and innocent civilians;

The pacifist position and whether any war today can be considered a Just War.
The topics will be considered with a strong emphasis on the action that civil society should be taking to reduce militarism and prevent war. Each topic will be the subject of a group discussion.
The Movement for the Abolition of War uses the Arts, particularly music and film, in its education and in peace campaigning. These will feature throughout the weekend. The "Women peacemakers" exhibition from The Peace Museum will be displayed over the weekend.
Further information available from www.hilfieldproject.co.uk
Download the booking form (pdf)
---