6. Oct 08 - 10. Oct 08
Linking poverty, wealth and ecology: Latin-American and Caribbean perspectives
Ciudad San Cristóbal, Guatemala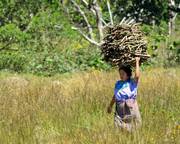 The consultation is part of a WCC study project on Poverty, wealth and ecological debt. It continues a process which was started at the WCC 8th Assembly in Harare in 1998 and became known as Alternative Globalization Addressing People and Earth (AGAPE) since the 9th Assembly in Porto Alegre. Today, the issue of socio-economic justice is no less pressing.
Similar church encounters are to take place on four other continents before the next WCC assembly. Recognizing that there can be no peace without justice, these encounters also inform the International Ecumenical Peace Convocation which will conclude the Decade to Overcome Violence in 2011.
Read a working paper on the study process
---
Pobreza, riqueza y ecología: Perspectivas ecuménicas de America Latina y del Caribe
La consulta forma parte de un proyecto de estudio sobre la pobreza, la riqueza y la deuda ecológica. Es la continuación de un proceso que comenzó en la Octava Asamblea del CMI celebrada en Harare en 1998, que recibió el nombre de Globalización Alternativa para los Pueblos y la Tierra (AGAPE) desde la Novena Asamblea de Porto Alegre.
Se van a organizar encuentros eclesiales similares en otros continentes antes de la próxima asamblea del CMI. Reconociendo que no puede haber paz sin justicia, estos encuentros constituirán también una aportación a la Convocación Ecuménica Internacional para la Paz que clausurará el Decenio para Superar la Violencia en 2011.
Documento de referencia para el Proceso de Estudio
Más información sobre el CMI y la pobreza, la riqueza y la ecología
---
Armut, Reichtum und Umwelt: Lateinamerikanische und karibische Perspektiven
Die Konsultation ist Teil des ÖRK-Studienprojekts über Armut, Reichtum und ökologische Schuld. Es setzt einen Prozess fort, der auf der achten ÖRK-Vollversammlung 1998 in Harare, Simbabwe, seinen Anfang nahm und seit der neunten Vollversammlung 2006 in Porto Alegre, Brasilien, als AGAPE-Prozess - Alternative Globalisierung im Dienst von Menschen und Erde - bekannt ist. Das Problem der sozio-ökonomischen Gerechtigkeit hat seither nicht an Dringlichkeit verloren. 
Im Vorfeld der nächsten ÖRK-Vollversammlung finden zwischen 2007 und 2010 ähnliche Konsultationen auf vier weiteren Kontinenten statt. Da es ohne Gerechtigkeit keinen Frieden geben kann, werden diese Treffen auch Erkenntnisse für die Internationale ökumenische Friedenskonvokation liefern, die 2011 den Abschluss der Dekade zur Überwindung von Gewalt bilden wird. 
Mehr zur Studie über Armut, Reichtum und ökologische Schuld
---
Pauvreté, richesse, écologie: Perspectives oecuméniques d'Amérique latine et des Caraïbes
Ce colloque fait partie d'un projet d'étude sur la pauvreté, la richesse et la dette écologique.  Il se situe dans la ligne d'un processus amorcé lors de la 8e Assemblée du COE à Harare en 1998 et qui, depuis la 9e Assemblée à Porto Alegre, est connu sous le nom d'AGAPE (sigle anglais pour : "L'altermondialisation en faveur des êtres humains et de la terre"). Aujourd'hui, la question de la justice socio-économique n'a rien perdu de son urgence. Le fossé entre riches et pauvres s'est encore creusé, notamment en Afrique, avec des conséquences catastrophiques pour la paix et l'environnement.
D'autres rencontres de ce type, entre Eglises, auront lieu sur d'autres continents avant la prochaine Assemblée du COE. En affirmant qu'il ne saurait y avoir de paix sans justice, ces rencontres inspireront également le Rassemblement oecuménique international pour la paix qui conclura la Décennie "vaincre la violence" en 2011.
Plus d'information sur le projet du COE "Pauvreté, richesse et écologie"
---